My debut story collection I Know You Know Who I Am (Penguin Books) is available now wherever books are sold! You can order a copy or two (or more, please feel free) through your local independent bookstore or on Amazon.
I had the honor of being interviewed by the amazing Ari Shapiro for NPR's All Things Considered, and our conversation aired yesterday. You can listen to it online here.
For the New York Times Book Review, Jac Jemc had some generous praise for the book, too, which was just a huge honor–"Riveting. . . Every lie reveals itself so exquisitely that the parallels become an added pleasure, as soon as we uncover the ways they diverge."
Oprah Magazine called the collection one of the best books of February, and included it in their March print edition–in Oprah's Reading Room.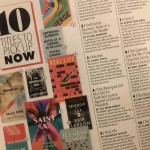 Electric Literature's Recommended Reading published one story from the collection, "In the Palm of His Hand," which is recommended by the total genius Kristen Arnett and available to read online here. I was also interviewed about the book at PAPER Magazine, Debutiful, and Writers Bone.
At American Short Fiction, I interviewed the brilliant Clare Beams about her Bard Prize-winning story collection We Show What We have Learned, which you should buy through your local bookstore here, now.
Finally, I had the privilege of being in conversation with amazing writers Garrard Conley and David Ebershoff this week as well, at McNally Jackson and Books Are Magic. A thrill, and just a lot of fun.
Very grateful, very lucky. Wow. What a feeling.